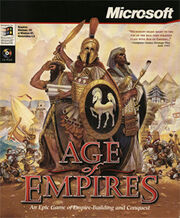 Title: Age of Empires®
Genre: Real Time Strategy
Platform: PC
Release Date: Now Available
ESRB Rating: Teen
Age of Empires is an epic real-time strategy game spanning 10,000 years, in which players are the guiding spirit in the evolution of small stone age tribes. Starting with minimal resources, players are challenged to build their tribes into great civilizations.
Gamers can choose from one of several ways to win the game, including: world domination by conquering enemy civilizations, exploration of the known world and economic victory through the accumulation of wealth. Age of Empires was developed by Ensemble Studios™ and features the expertise of Bruce Shelley, co-designer of the hit strategy game Civilization.
System Requirements
Edit
Microsoft® Windows® 95/98/NT/Me/XP/2000
PC with 90 MHz equivalent or higher processor
16 MB of system RAM
80 MB available hard disk space
4x speed or faster CD-ROM drive
Local SVGA bus video display with 1 MB VRAM
Sound card, speakers or headphones required for audio
Microsoft Mouse or compatible pointing device
28.8 Kbps or better modem for online play
References
Edit
http://www.microsoft.com/games/pc/empires.aspx
Community content is available under
CC-BY-SA
unless otherwise noted.